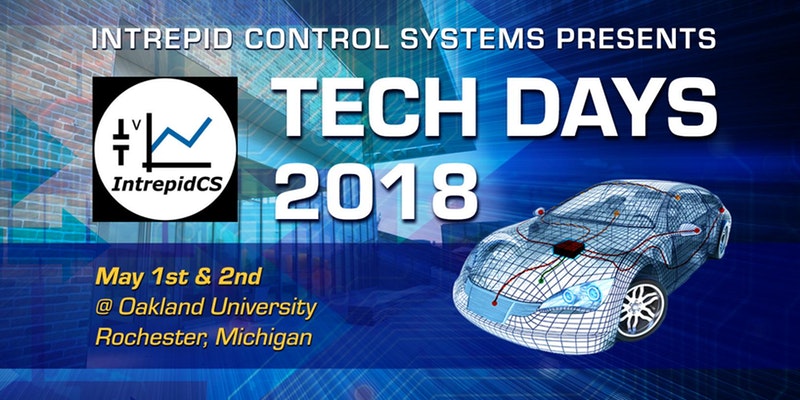 We are pleased to invite you to Intrepid Tech Days 2018. This year's event will be held on May 1st and 2nd at Oakland University's Engineering Center. We'll be providing cutting-edge information on several topics including:
Autonomy
Cybersecurity
Automotive Ethernet
IoT in Automotive
Data Logging for Multiple Cameras and Gigabit Streams
Multi-ECU Flashing Applications
Gateways and "Injection Testing" with Protected PDUs
SoAd and DoIP (Socket Adaptor and Diagnostics over IP)
XCP over Ethernet and New Calibration Tools
AUTOSAR ARXML Editors
and much more – Find out more and sign up>>
Vehicle Spy Lab — New for 2018!
This year, we are excited to launch the new Vehicle Spy Lab! The VSpy Lab will offer one-on-one guided tutorials to walk you through some of our most common tech support questions. Our support team will be onsite to answer questions related to the labs and also about Vehicle Spy in general. VSpy Lab stations will be available on a first-come, first-served basis. Feel free to ask for hands-on assistance specific to your needs.
Face-to-Face Consultations — New for 2018!
Also new at Tech Days 2018 are Face-to-Face Consultations. While at Tech Days, bring your project and your questions! Intrepid experts will be available for personal, one-on-one help in a private setting. Get help with Vehicle Spy, Intrepid hardware setups, or get more details about topics covered during the Tech Days presentations. We are happy to discuss new technologies or to help you find solutions to problems you are currently facing.
Reserve Your Seat Today!
Reservations are "first come, first served" and seating is limited. Please take a moment to register now. We are looking forward to hosting you at Intrepid Tech Days 2018 for education, inspiration, and fun! For more information and to register, visit intrepidcs.com/techdays
Please use the links below to sign up for each day.
Day 1 – Autonomy / Cybersecurity / Ethernet
Find Out More and Register for Day 1 >>
Day 2 – IoT/ Data Logging / Powertrain / CAN FD